AIWARDS team rolled out an interactive map locating award shows venues. Besides standard scrolling and navigation abilities, the new feature is packed with a powerful filtering engine, which allows a user to select events by a year range, organization, venue name and upcoming tag. As an example, follow this link to view the locations of past AVN Awards held in Las Vegas. The map is mobile friendly and easily accessible from different places of the site.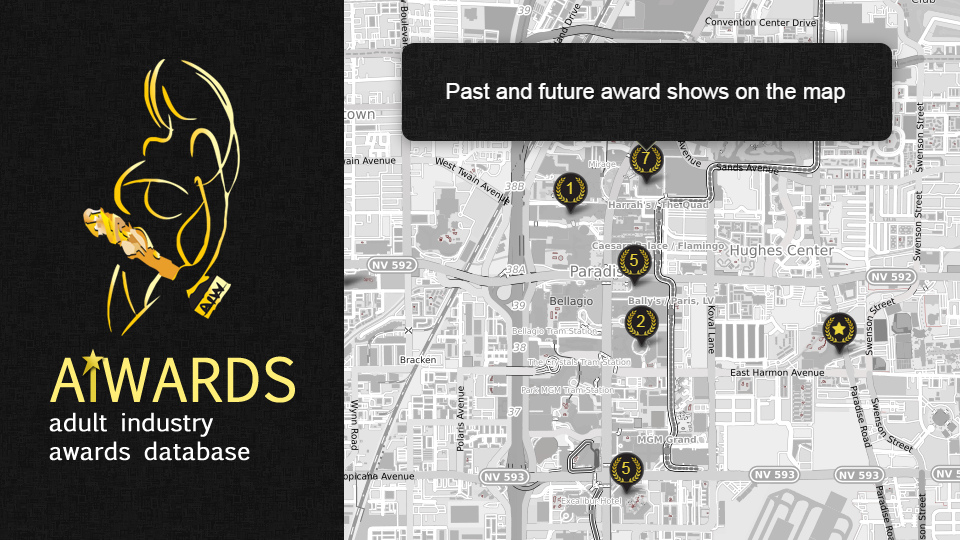 "This enhancement is very helpful for industry professionals and fans," says Alex the founder of AIWARDS. "For editors, writers and historians this map offers easy interface for navigating through past events and offers technical information which might be useful in writing articles and reports. For the fans this map helps finding upcoming venues. The links to the Google maps offers easy way to obtaining exact directions for the selected show."
AIWARDS has fully identified accurate street address and hosting party for 116 out of 124 award ceremonies. The other locations for the rest 8 shows are still being investigated, but with a very little progress. The data is missed for the AVN Awards of years 1985 and 1986, few XRCO's between 1987 and 1992 and the very first Nightmoves and XBIZ events. The project's team asks for help from anyone who knows anything about those shows.
Additionally, our team offers promotion opportunities linked with the new feature. Advertiser may choose to highlight an event on the map, which may attract additional visitors to their exhibitions and presentations. For pricing details, please visit advertising page.
From the get-go The Adult Industry Awards project was conceived as a homebase for the most well-known award shows in the adult industry, with the goal of gathering info on all of the awards, winners, and nominations.
For further more information, visit AIWARDS.com or follow on Twitter @aiwards.