We had a very active year for award shows in 2018 . Thankfully Adult Industry Awards Database made sure to stay on top of all these with updates to the website. With this collected data you may be able to catch up on any ceremonies you may have missed like XRCO Awards, AVN awards, and even the PornHub Awards to mention a few. With hundreds of trophies spanning between 418 tracked categories.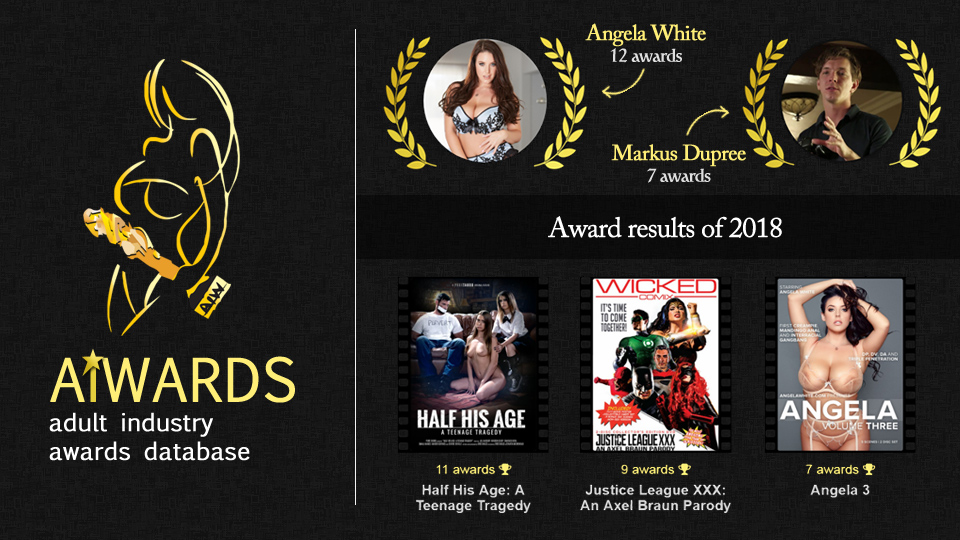 Out of 100 awarded movies that received trophies "Half His Age: A Teen Tragedy " took a total of 11, while the critically acclaimed "Angela 3 " took 7 trophies home. Among parodies the absolute lead belongs to "Justice League XXX: An Axel Braun Parody " with 9 prizes. These comprehensive updates included 52 new names added to database out of the 108 awarded girls in total. This included luminous new faces like Kristen Scott , Catjira , and Jill Kassidy being added to the Adult Industry Awards. There were also 8 totally new series that were inducted to the database. Like the multiple award-winning "Angela Loves … " line taking a total of 3 different accolades.
It is nice to have a centralized data-hub to sift through whether for record keeping purposes or sheer curiosity. Updates like this are sure to keep coming. With incredible years like 2018 where the total issued winning trophy count was at a whopping 947 accolades. It was also an amazing year for performers like Angela White with her raking in a total of 12 awards. Adriana Chechik had a very active year with her taking 5 different trophies. Fan favorite Riley Reid had 6 prizes added to her tracked info on the Adult Industry Awards database.
Visionary directors had their rosters updated with more awards in 2018. Greg Lansky taking 4 awards, Axel Braun being named 3 different times, and Dana Vespoli being treasured 2 awards to her name. The companies behind these directors had their own trophy data updated for 2018. One of the top companies winning a total of 24 trophies was Wicked Pictures . The other major brand recognized is Jules Jordan and that name took 24 awards as well. Girlfriends Films an honorable mention has 22 to its name after the year 2018.
The top swordsmen of 2018 were included in this update with multiple award-winning Markus Dupree with 7 awards given, Small Hands taking 4 trophies himself, also the year provided Johnny Sins with 4 trophies, and Mick Blue taking 4 awards to his repertoire that year.

With all the fan voting that happened in 2018, the top fan-voted names gave you familiars like Angela White and Johnny Sins as industry darlings. Even more specific fan-voted categories were a part of this 2018 growth project with 63 added entries that were included.
During the 2018 the Aiwards team fulfilled some blind spots in the history of the adult industry which included the addition of the discontinued F.A.M.E. Awards, The FANNYs, and TheSexAward s to the database.
The Adult Industry Awards a project originally started from the ground up to have a home base for the most well-known award shows in the adult industry. With the goal of keeping tracked info on all of the awards, winners, and nominations that take place. Last year was an example of a very active award season which was successfully monitored on Aiwards.